Our inspirational and talented apprentice Chloe was recently nominated for student of the year in the Women in Property South West Awards.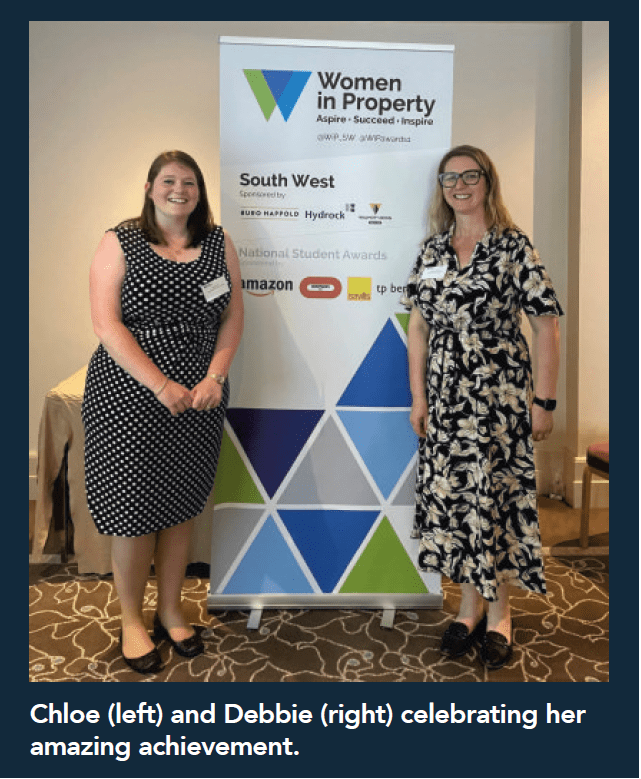 Debbie, her mentor and colleague, said:
"I'm passionate about growing talent in the field of surveying and Chloe is a fantastic example of this. She has worked very hard and has done exceptionally  well at University. We are so pleased this has been recognised. When she was nominated, Chloe had to deliver a presentation on a project and sit an interview, so this really is
a fantastic recognition of all her hard work to progress as a surveyor. Massive well done to Chloe from us all at CBH"
Here at CBH we understand the challenges faced with retaining and recruiting the right people who share our values and passion for people. We care about you and your family which is why we are continuously looking at new ways to enhance our recruitment process. We were really excited when Chloe expressed that she would like to undertake a Building Surveying degree, enabling us
to 'grow our own' surveyor.
We are delighted Chloe has excelled on her course and has been recognised in this way – for more information on our latest jobs visit
www.cbh.org/about-us/jobs/